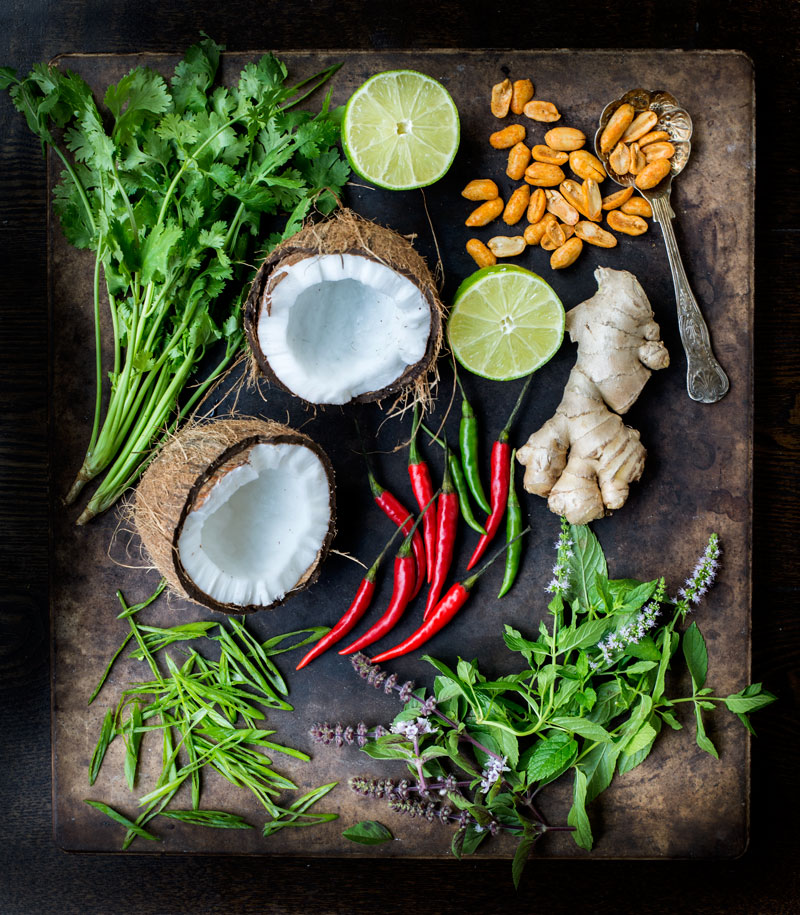 Pondering what to make for dinner? Running low on time and/or motivation? A stir-fry is the perfect solution. It's quick, versatile, and flavorful. Once the ingredients are chopped and your wok is hot, it's just a manner of minutes until the finished dish is ready to be enjoyed.
For today's stir fry, I used thinly sliced pork tenderloin. You could easily swap out the pork for chicken or turkey breast, ground lamb, beef, tofu, eggs, or shrimp. There is an abundance of herbs in this stir fry — [Thai] basil, cilantro, and mint — which, along with plenty of lime (juice and zest), add a freshness and brightness to this one-pan/wok meal. Fresh ginger, scallions, [Thai] chiles, garlic, roasted peanuts, and coconut round out the remainder of the ingredients.
I used two Thai chiles (that were not particularly spicy), though you can adjust any stir-fry depending on whether you like it spicy or not. You can seed the chiles to tame the level of heat or use the whole chile for more heat. I like to serve this stir-fry with a side of prik nam pla (fish sauce with chopped Thai chiles). Prik nam pla is one of my favorite condiments. Salty and spicy. I always have a jar on hand.
Freshly grated coconut is a welcome addition, albeit a bit challenging to obtain if you're not familiar with coconuts. First, you need to drain (and drink, because it's delicious) the coconut water. In order to extract the coconut water, just pierce a corkscrew into the coconut's 'eyes'. Tilt the coconut over a glass and the coconut water will come flowing out.
From there, I gave the coconut a couple good wacks with a hammer to crack it in half, used a sharp knife to pry out the flesh, removed the brown membrane with a vegetable peeler, and then grated the flesh with a box grater. However, if you are not up to the challenge or short on time, this recipe works just fine with dried coconut or frozen grated coconut (I find at most Asian markets). Or, prep the coconut ahead of time. It will keep refrigerated for at least a week.
Lastly, I prepared a batch of brown rice in the rice cooker.
Dinner is served.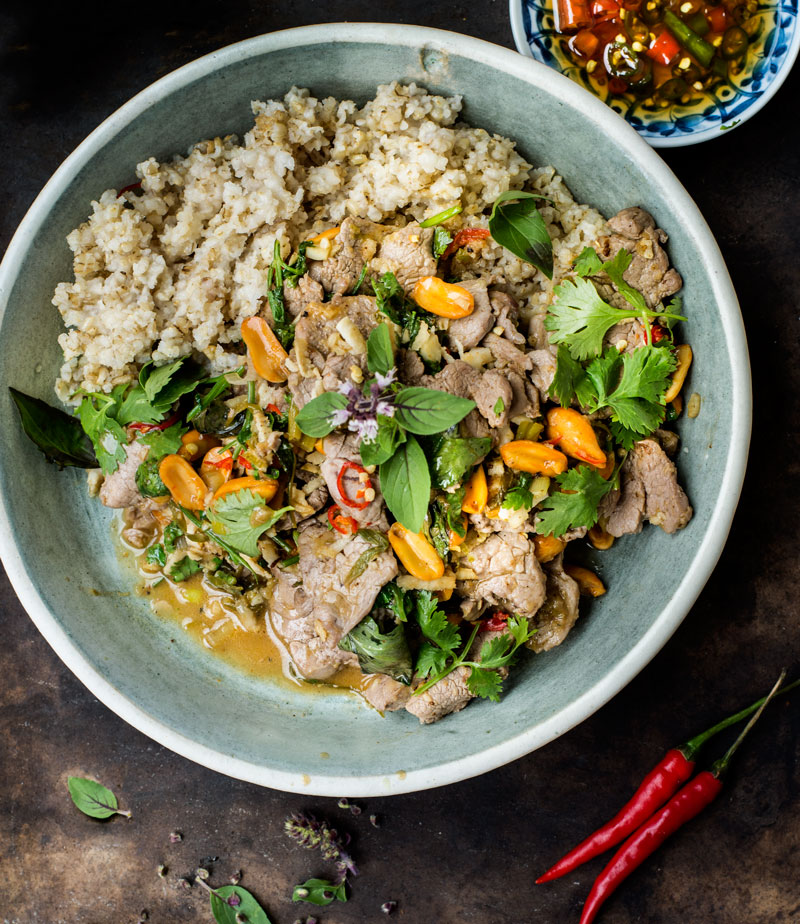 A Quick Pork and Fresh Herb Stir-Fry
Adapted from Vietnamese Food & Cooking
serves 4
3 tablespoons vegetable (or coconut) oil
1 pound pork tenderloin, thinly sliced
4 scallions, sliced
4 garlic, minced
1 1/2-inch of fresh ginger, peeled and grated
2 Thai chile chopped
1/2 cup roasted unsalted peanuts
grated zest and juice of 2 limes, plus wedges of lime for serving
2 tablespoons fish sauce
3 tablespoons fresh (or dried) grated coconut
1/2 cup fresh [Thai] basil leaves
1/2 cup fresh cilantro leaves
1/4 cup fresh mint leaves
brown or white rice for serving
prik nam pla (fish sauce with chopped Thai chiles) for serving
Heat a wok over high heat. Add 2 tablespoons of oil. When the wok is very hot, add the pork and and cooked until browned, 2 to 3 minutes. Transfer the pork to a plate along with any juices.
Wipe the wok clean. Heat the remaining tablespoon of oil over high heat. Add the scallions, garlic, ginger, and chiles. Stir-fry a minute or so. Add the peanuts and stir fry another minute or two. Add the meat back to the wok. Stir in the lime zest and juice and fish sauce. Add the coconut and herbs. Toss to combine and remove from the heat.
Serve over warm rice and with prik nam pla and lime wedges.