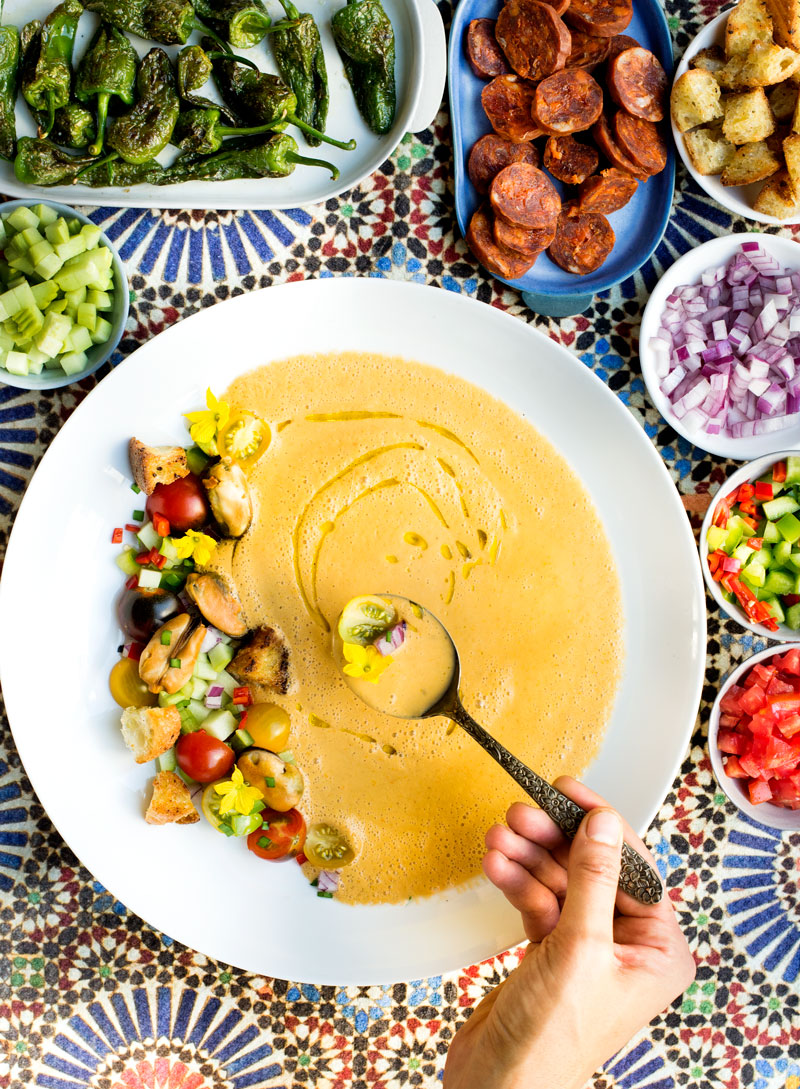 Like many, I eagerly await summer and its splendid tomatoes. Can't think of many things better than a vine-ripened tomato. This year, I have four tomatoes plants in my backyard. Love plucking the (cherry) tomatoes right off the vine and popping them into my mouth. A sprinkling of sea salt and now we're talking.
So when summer gives you tomatoes, why not make gazpacho?
Gazpacho might be the ideal summer dish. It's quick. There's no cooking involved. It's easy to prepare. Just toss everything into a high-speed blender, strain, then chill. It's fresh. Gazpacho embraces and highlights the best of summer — tomatoes, peppers, cucumbers. It's creamy, without the cream. It's tasty, with a perfect kick of acidity (from sherry vinegar).
My plan was to make a yellow gazpacho using yellow and green zebra tomatoes. But when I blended them, the soup turned a rather dull shade of yellow. It tasted great, but was lacking visual appeal. So, in order to remedy that bland shade of yellow, I added a few red tomatoes to the blender. And voila, the soup turned a lovely shade of orange. Problem solved.
There are many variations on gazpacho. I prefer a super smooth version, thickened with the addition of bread (briefly soaked in water to soften). Be sure to taste along the way, adding more sherry vinegar and salt to taste. A little salt and acid can enliven something that tastes 'flat.'
You can keep the gazpacho simple or elevate it with some added garnishes. Today, I used red onion, cucumber, green bell pepper, tomatoes, chives, croutons, edible flowers (cucumber blossoms from my garden; I had to google it, but they are in fact edible), smoked mussels, and a drizzle of fruity extra virgin olive oil. Kind of a salad in a soup. Obviously you don't have to add all of these garnishes. Just wanted to give you some options. Use some. Use all. Up to you.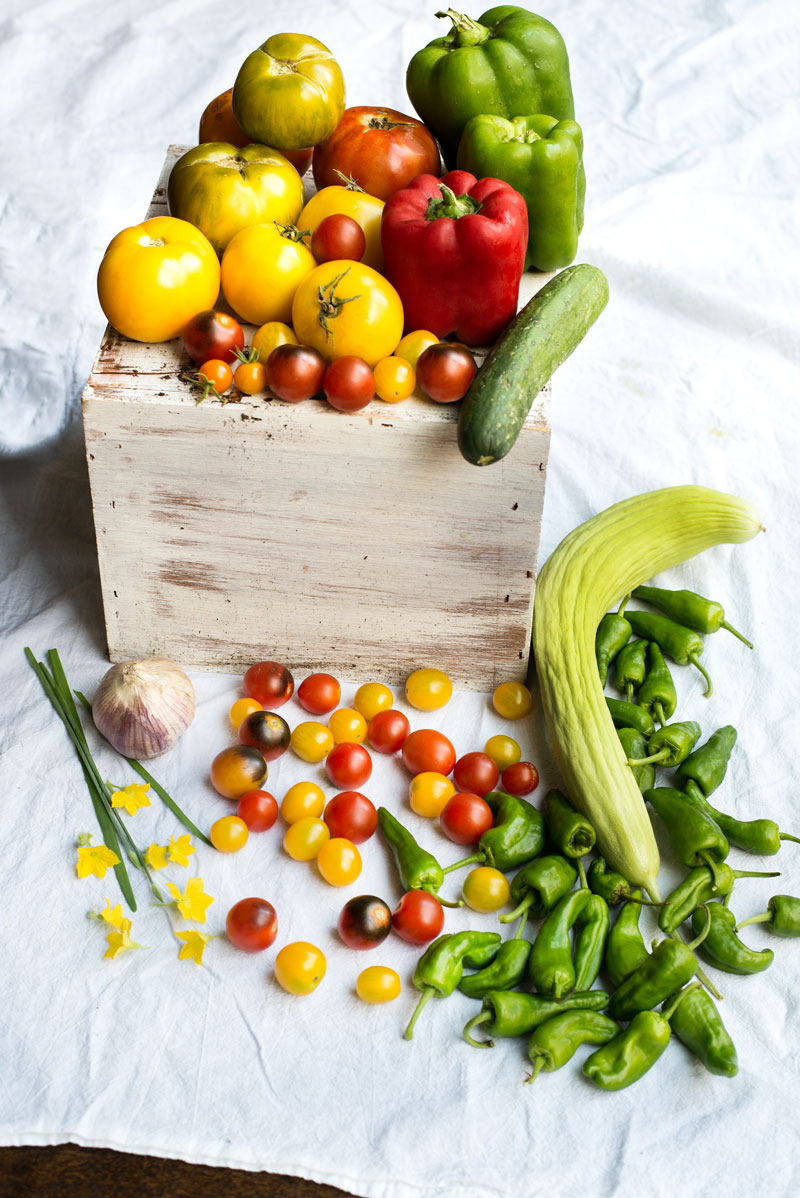 The Padron peppers, this rather unusual cucumber, some of the cherry tomatoes, the chives, and the cucumber blossoms came from my tiny urban garden. The rest of the veg were procured at a local farmers' market.
To round out my Spanish meal, I pan-fried some Pimientos de Padron and sliced up some smoky Spanish chorizo…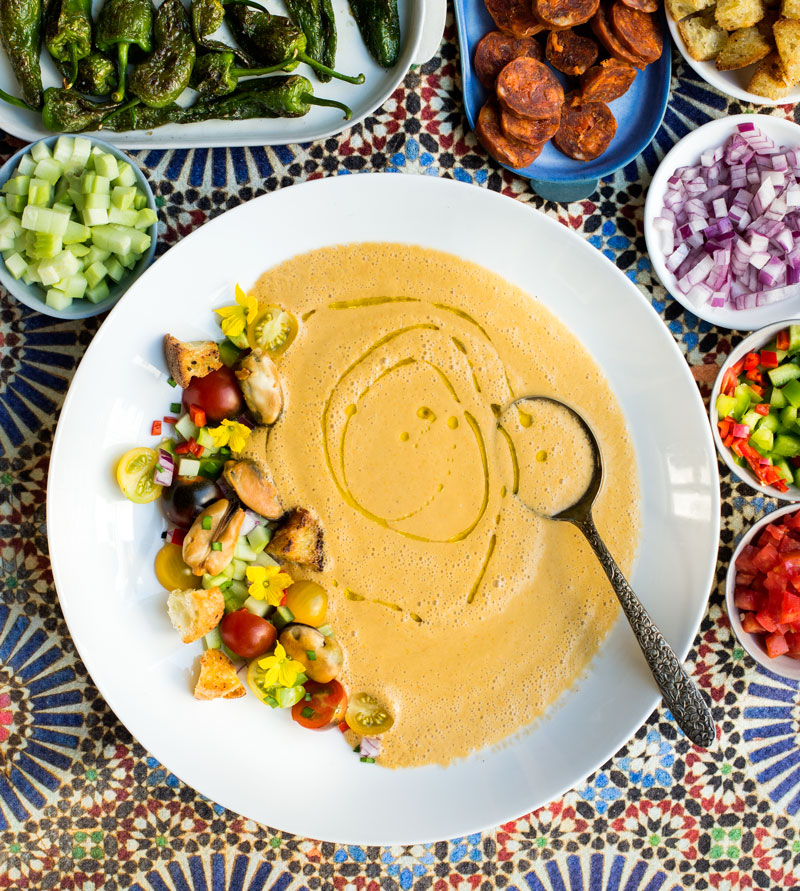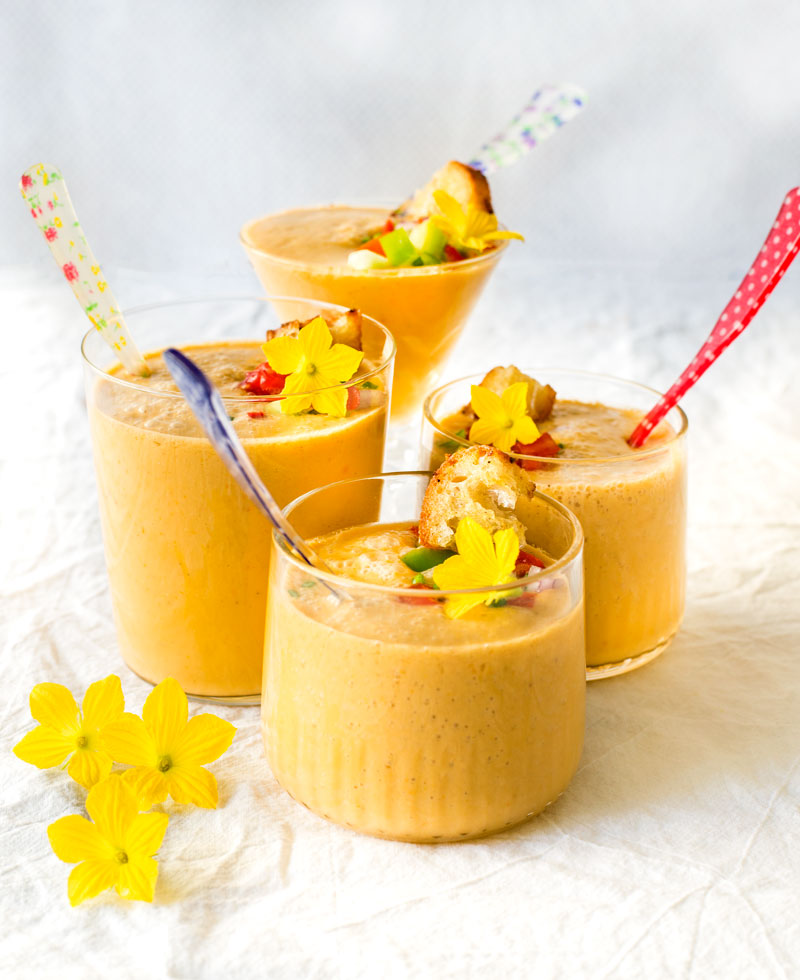 Gazapacho
1 slice of country bread, crusts removed, soaked in water for 1/2 hour, squeeze out excess water
2 pounds of tomatoes (used a combination of yellow, red, and green zebras), chopped
2 small (i.e., Persian) or 1 large cucumber, seeded, roughly chopped
1/2 green bell pepper, seeded, roughly chopped
1 garlic clove
2 tablespoons sherry vinegar (more if needed)
sea salt
1/2 cup extra virgin olive oil
Place the bread, tomatoes, cucumber, green bell pepper, garlic, and sherry vinegar in a high speed blender. Season with salt. Blend until smooth. Add the olive oil in a steady stream until completely smooth. Taste, adding a touch more sherry vinegar or salt to taste. Blend again (if it's too thick, add a little bit of water; I didn't end up adding any given that my tomatoes were super juicy). Strain the soup through a fine mesh sieve. Refrigerate until chilled, at least 2 hours.
Serve chilled with suggested garnishes.
Suggested Garnishes:
Use some, use all, up to you.
red onion, finely chopped
cucumber, seeded, finely chopped
green bell pepper, seeded, finely chopped
tomatoes, seeded, finely chopped
chives, chopped
*croutons
edible flowers (these are cucumber blossoms from my garden)
smoked mussels (Ducktrap River of Maine)
*For the croutons: I cubed up the bread (used a French baguette). Heated some olive oil in a skillet over medium heat and sauteed until golden brown and crispy. I added a sprinkling of garlic salt to the croutons. Drain on paper towels.