First things first, Wild Greens and Sardines got a makeover. I've spent many an hour over the past few weeks redesigning the site. That's a big feat for someone who is by no means tech savvy. Hope you like the new layout.
Now, let's get back to cooking….I've been busy in that department too.
One of my favorite dishes is a Thai fish curry with coconut milk (previously posted here) from Jeffrey Alford's and Naomi Duguid's stellar cookbook entitled Hot Sour Salty Sweet: A Culinary Journey Through Southeast Asia. I've made this fish curry several times, including at a recent dinner party, with great success.
The flavors in this curry are unique. The dish is quick and easy to pull together. Everything goes into the wok, and from there it requires just a few minutes of cooking. In keeping with the title of the book, this Thai fish curry is indeed hot, sour, salty, and sweet — hot (from the chile, you can make it as spicy as you like), sour (from the lime), salty (from the fish sauce), and sweet (from the coconut milk).
Fresh limes leaves add yet another layer of flavor to the dish. If you do decide to give this dish a try, first, I think you'll love it; second, I highly recommend a trip to an Asian market to track down some fresh lime leaves. Fresh lime leaves lend an aromatic, floral note that makes this dish sing.
Alford and Duguid (formerly husband and wife) have co-authored several award winning books, including Flatbreads and Flavors (have this one), Seductions of Rice (this one as well), Mangoes and Curry Leaves (do not own, buy may have to purchase). According to Wikipedia, Alford and Duguid parted ways in 2009. In 2012, Duguid published Burma: Rivers of Flavors. Just noticed she has another cookbook (a Persian one) due out in September 2016 (bookmarked).
I recently added Burma to my cookbook collection because can one really ever have too many cookbooks?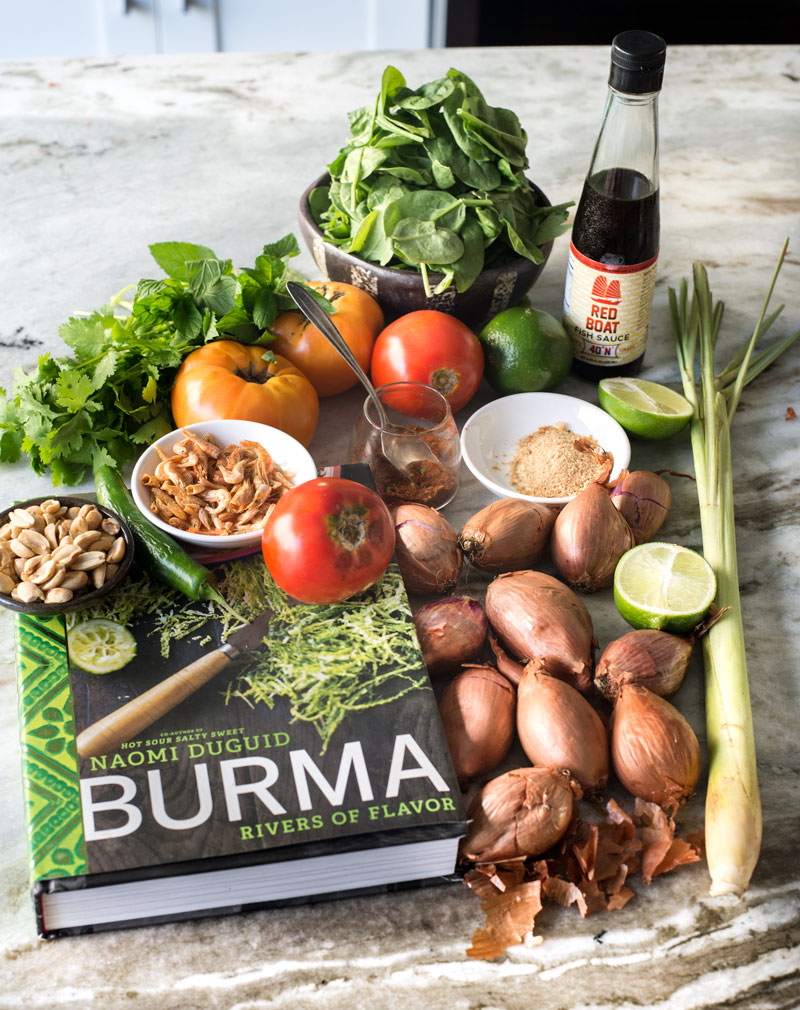 A couple of salads from her book caught my attention: 1) A spinach and tomato salad with roasted peanuts and 2) A poached fish salad with shallots and herbs. Both salads, simple and fresh, yet possessing layers of flavor and crunch. Something a bit lighter and brighter for this time of year.
While I've never been to Myanmar or tasted its cuisine, I felt transported to another place with this meal's distinct flavors and combination of ingredients. Am eager to try some of her other dishes.
Deep fried shallots (need I say more)…
I don't do a whole lot of deep frying, but these deep fried shallots are highly addictive. When they come out of the oil, be sure to drain well on paper towels and finish with a sprinkling of sea salt.
Once you're done frying the shallots, DO NOT toss the oil. The remaining oil now has a lovely onion-y flavor and will be used to dress both salads (and other dishes as well).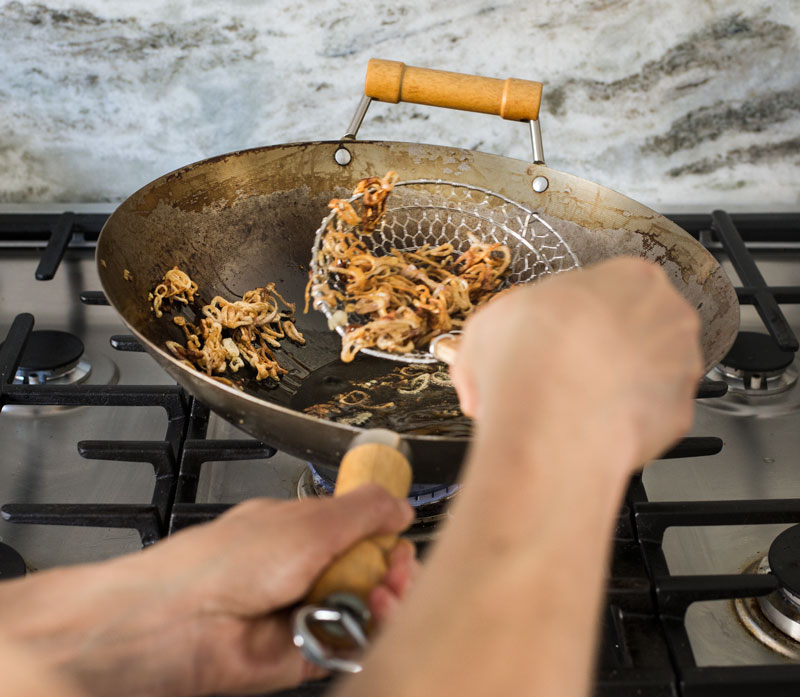 The first salad is a tomato and spinach salad with roasted peanuts and crunchy fried shallots….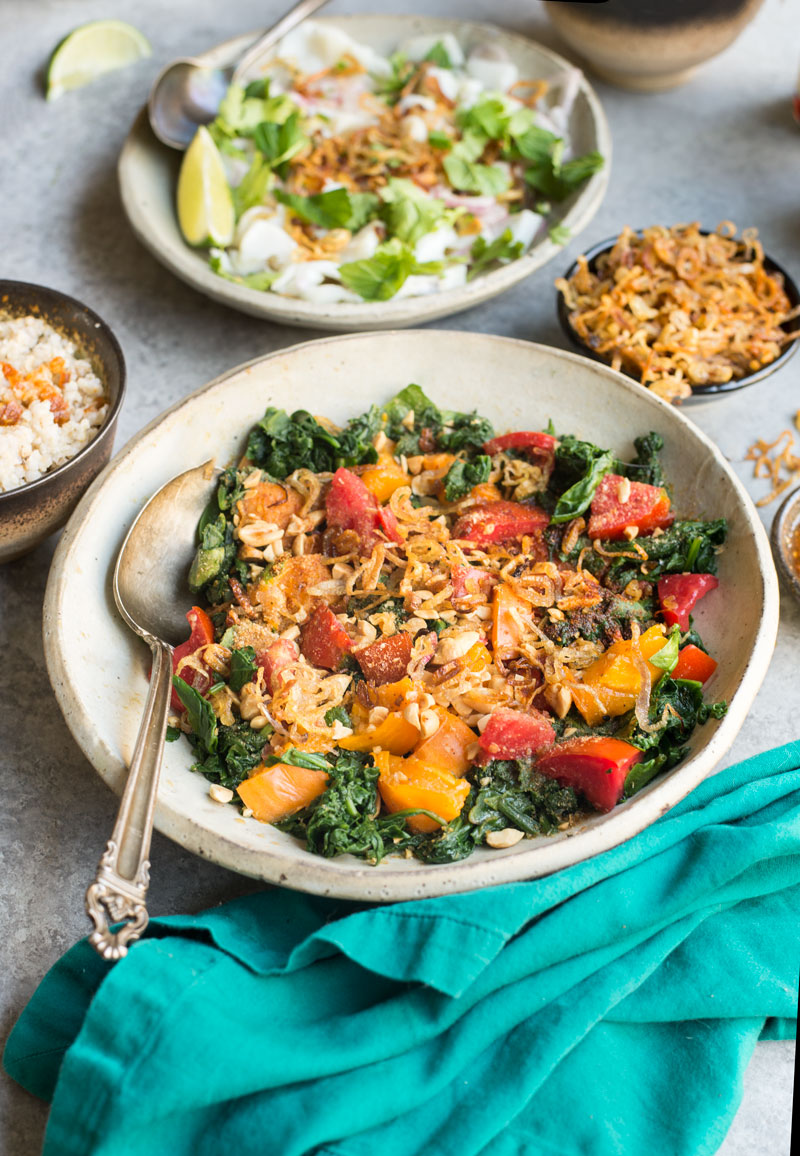 The second salad is a poached fish salad with fresh herbs (Thai basil and mint) and fresh and fried shallots…it's light and bright with lots of citrus.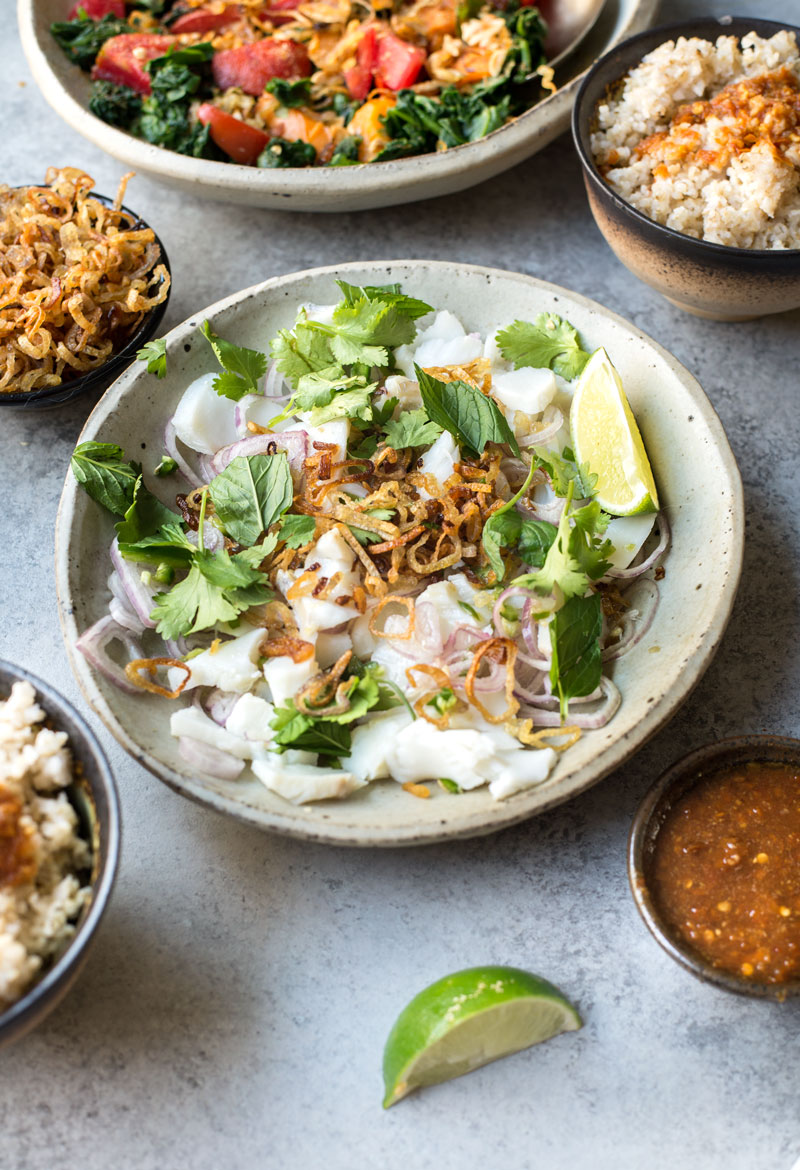 My tasty Burmese (Myanmarese) feast…I like to start with a generous scoop or two of rice in a bowl and then add a few spoonfuls of each salad, topping with more crispy shallots and finishing with a few more chopped herbs and chile sauce. Yum!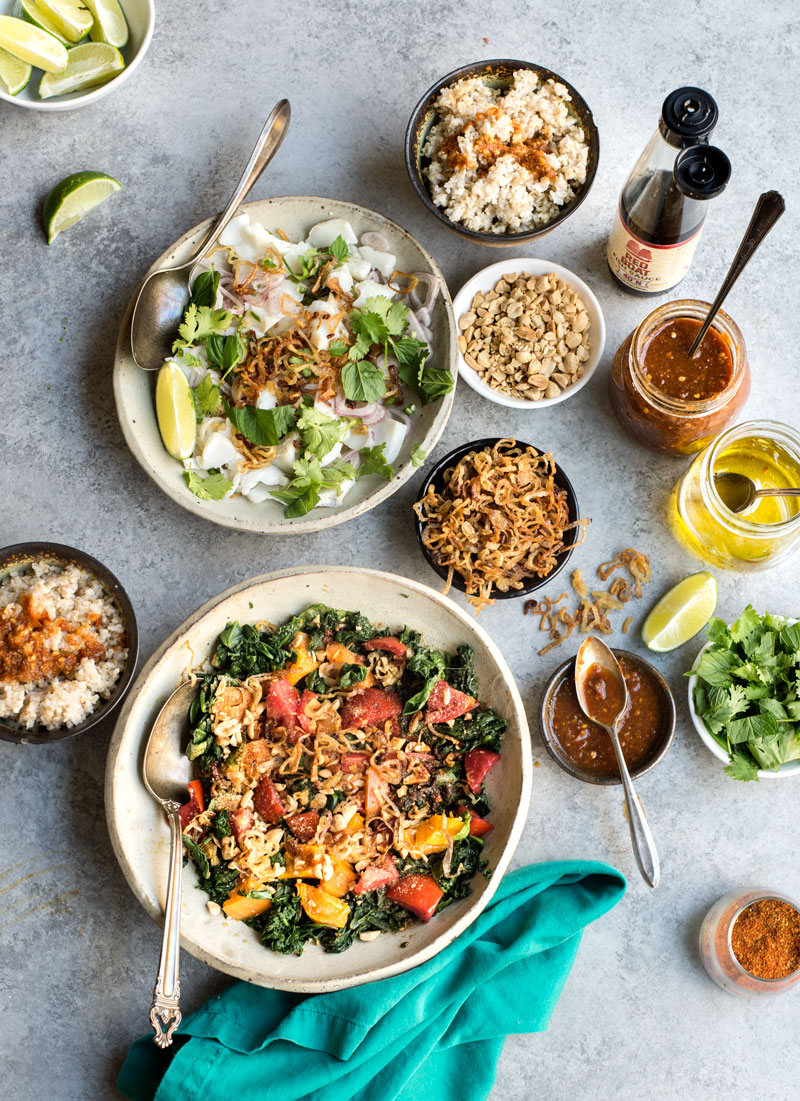 A Burmese (Myanmarese) Feast
Adapted from Burma: Rivers of Flavors
Spinach and Tomato Salad with Peanuts
Serves 3 to 4
3/4 pound spinach, tough stems removed, washed, drained well
1 medium to large ripe tomato, 1/2 inch dice (about 1 cup)
2 tablespoons chopped roasted peanuts
*dried shrimp powder (recipe called for 1 tablespoon, but I find shrimp powder a bit assertive, so just added a sprinkling on top)
1 tablespoon fried shallots (recipe below)
1 tablespoon shallot oil (recipe below)
1 1/2 teaspoons fish sauce
pinch of cayenne
salt to taste
Place the spinach in a dry skillet or wok over medium-high heat, cover, and cook until the spinach is just wilted, about 3 minutes. Remove, press out as much water as possible from the spinach, and chop.
Add the chopped spinach to a serving bowl, along with the chopped tomatoes, peanuts, shrimp powder, fried shallots, shallot oil, fish sauce, and cayenne. Taste and add salt as needed. Toss gently and serve.
*ground shrimp is nothing more than dried shrimp that has been ground to a powder in a spice grinder.
Poached Fish Salad with Shallots and Herbs
Serves 4
1 stalk of lemongrass, trimmed and smashed
1 teaspoon salt
1 pound of firm white fish
1/2 cup thinly sliced shallots, soaked in cold water for 10 minutes, drained and patted dry
2 tablespoons fresh lime juice
2 tablespoons fried shallots (recipe below)
2 tablespoons shallot oil (recipe below)
salt to taste
1 to 2 green Serrano chiles, minced
1/4 cup combination of fresh herbs, such as mint, cilantro, [Thai] basil
Place 1 1/2 cups of water in a pot with the lemongrass. Bring to a boil. Add the salt.  Add the fish, bring to a simmer, cover, lower heat, and poach until the flesh is opaque, about 5 minutes (be careful not to overcook). Remove the fish and set aside to cool. Flake into big chunks. Place in a bowl.
Add the fresh shallots, lime juice, shallot oil, fried shallots, salt to taste, and green chiles. Toss to combine. Taste, adding more lime juice and/or salt as needed.
Top with the fresh herbs, toss lightly and serve.
Shallot Oil
1 cup oil (used grapeseed)
2 cups  thinly sliced shallots
sea salt
Line a plate with paper towels.
Place a wide, heavy, deep-sided skillet or large, stable wok over medium-high heat.  Add the oil. Toss in a slice of shallot. As the oil heats, it will rise to the surface. When it's reached the surface, add the remaining shallots, carefully, so the oil doesn't splash. Lower the heat to medium.
Stir gently and frequently with long-handled wooden spoon or spider. If the shallots begin to brown too quickly lower the heat. After 10 minutes, they should start to turn golden. Continue to cook, another 3 minutes or so, until they turn golden brown.
Use a spider to lift the shallots out of the oil. Let them briefly drain and then transfer to the paper towels. Gently separate any clumps, sprinkle with sea salt, and allow the shallots to air dry 5 to 10 minutes.
Once cooled, the shallots can be stored in a clean, dry jar (sealed tightly).
Let the oil cool and then transfer to a clean, dry glass jar. Store in a cool dry place.