A year ago at this time I was preparing to set off on a journey.  Three months in Ireland.  One of the best three months of my life.
Can't believe an entire year has
gone
 flown by.  Once again, I'm getting that urge.  My inner travel bug is nipping at me.  Long to escape, to feel free, to set afoot in the world.  One of the few times in my life that I can quiet my thoughts, forget about all my worries and anxieties, and feel at peace is when I'm travelling.  All that I need are the belongings on my back (and my beloved camera of course).
Thoughts of travel have conjured up memories and prompted today's dish.  This dish is called kedgeree.  Was first introduced to kedgeree while in Ireland.  Kedgeree is a curried breakfast (yep, breakfast) rice dish with flaked fish (traditionally, smoked haddock), parsley, eggs, curry powder, and butter.  It's origin is Anglo-Indian. English colonials from India brought back to the United Kingdom.
Kedgeree is traditionally made with smoked [Finnan haddie] haddock.  While smoked haddock was readily accessible all over Ireland, it's not so easy to find here at home.
Don't be a slave to a recipe.  Adapt it, alter it to your taste and what you readily have accessible.  
I substituted smoked trout for haddock, though other types of smoked fish would suffice (smoked salmon, mackerel, bluefish, other whitefish, etc.).
As for the eggs, you can hard-boil them (the more traditional preparation), though soft-boiled or medium-boiled are also acceptable.  I happen to like a more runny egg (and that's how I had kedgeree in Ireland), but it's all personal preference.
Kedgeree with runny, soft-boiled eggs….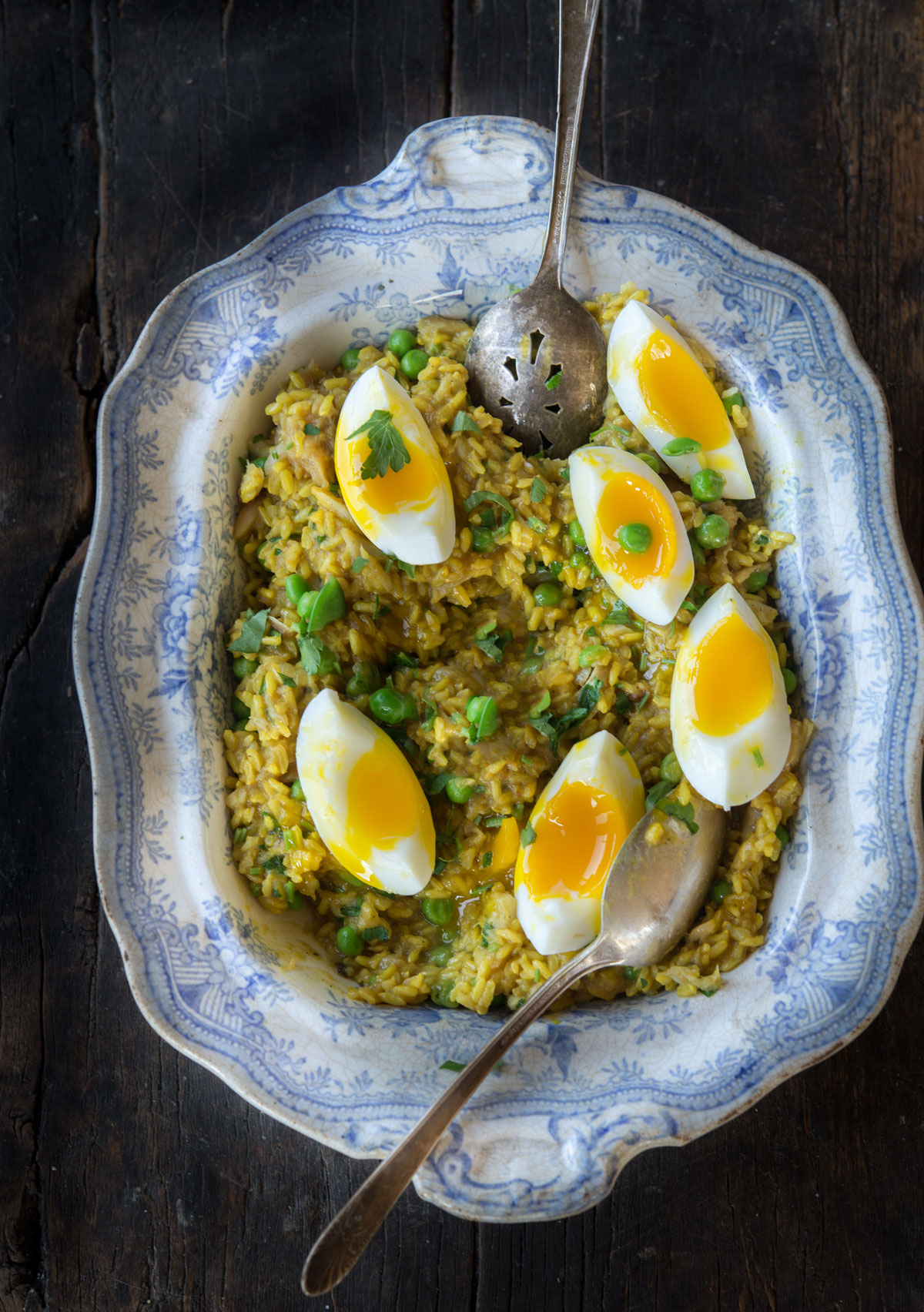 With hard-boiled eggs…good too.
This past Friday, I took a trip to the The Acme Smokehouse Retail Outlet (Greenpoint, Brooklyn).  The retail shop is only open to the public on Fridays (get there early, the lines get long).  Procured some cold-smoked pastrami salmon (delish), smoked mackerel, and some whole smoked trout; used the trout for the kedgeree.
Kedgeree
serves 4
1/2 pound smoked fish, flaked (such as salmon, mackerel, trout)
3 tablespoons unsalted butter, divided (more if you like)
1 medium onion, diced
1 tablespoon hot (Madras) curry powder
1/2 teaspoon turmeric
1 cup long-grain *rice
2 soft-, medium-, or hard-boiled eggs (depending on preference), quartered
2 tablespoons fresh chopped parsley and/or cilantro
1/2 cup frozen peas (optional)
green onions, thinly sliced (optional)
1 tablespoon lemon juice
salt and pepper to taste
Melt 2 tablespoons butter in a saucepan.  Add the onion, season with salt and pepper.  Saute until soft, about 5 minutes.  Stir in the curry powder, cook for 30 seconds. Stir in the rice. Add 2 cups of water.  Bring to a boil, lower to a simmer, cover, and cook for 15 minutes or until the rice is tender. Remove from the heat.
Add the flaked fish, peas, parsley, lemon juice, and remaining tablespoon of butter to the rice.  Cover the pan with a towel and place it over a very gentle heat for 5 minutes.  Transfer to a serving dish. Top with the quartered eggs.
*You can make this with brown rice, however, cooking times will vary.  Brown rice will take closer to 40 minutes.  Wonder how this would work in a rice cooker??
Note: Typically when using haddock in kedgeree, the haddock is first poached in milk until it easily flakes, about 10 minutes.