I made an impulse purchase the other day, and found myself with a 4-pack of Brooklyn Brewery Black Chocolate Stout. Not really sure what possessed me to buy beer, as I'm not much of beer drinker these days. Maybe just got caught up in the holiday festivities; this beer only comes around once a year, in the winter season, and then it's gone in the blink of an eye. If you've never tried a chocolate stout, it's probably unlike any beer you've had before. More of a dessert in a bottle, compared to your typical watered down lager.  Rather, this stout abounds with hints of dark chocolate, roasted coffee, and dark fruit undertones. If you are a fan of coffee and dark chocolate, then you are sure to like this beer. Definitely a sipping beer to be enjoyed on a cool evening in front of a toasty fireplace (with a good book). Despite the lack of a roaring fireplace, I cracked one open and thoroughly savored each and every sip.
Then the wheels started churning. Hmm…this beer would be great in a dessert. Patrick suggested a bread pudding and the rest is history. Gathered a few key ingredients and got to work. A crispy French baguette adds a nice texture to the creamy custard, which is comprised of stout, dark bitter chocolate (used 72% cacao), eggs, cream, and pure vanilla extract. I especially like that this dessert is not overly sweet, and the chocolate stout flavor shines through. Top with homemade whipped cream, a few shavings of chocolate, a sprig of fresh mint, and you and the bread pudding are sure to be big hits.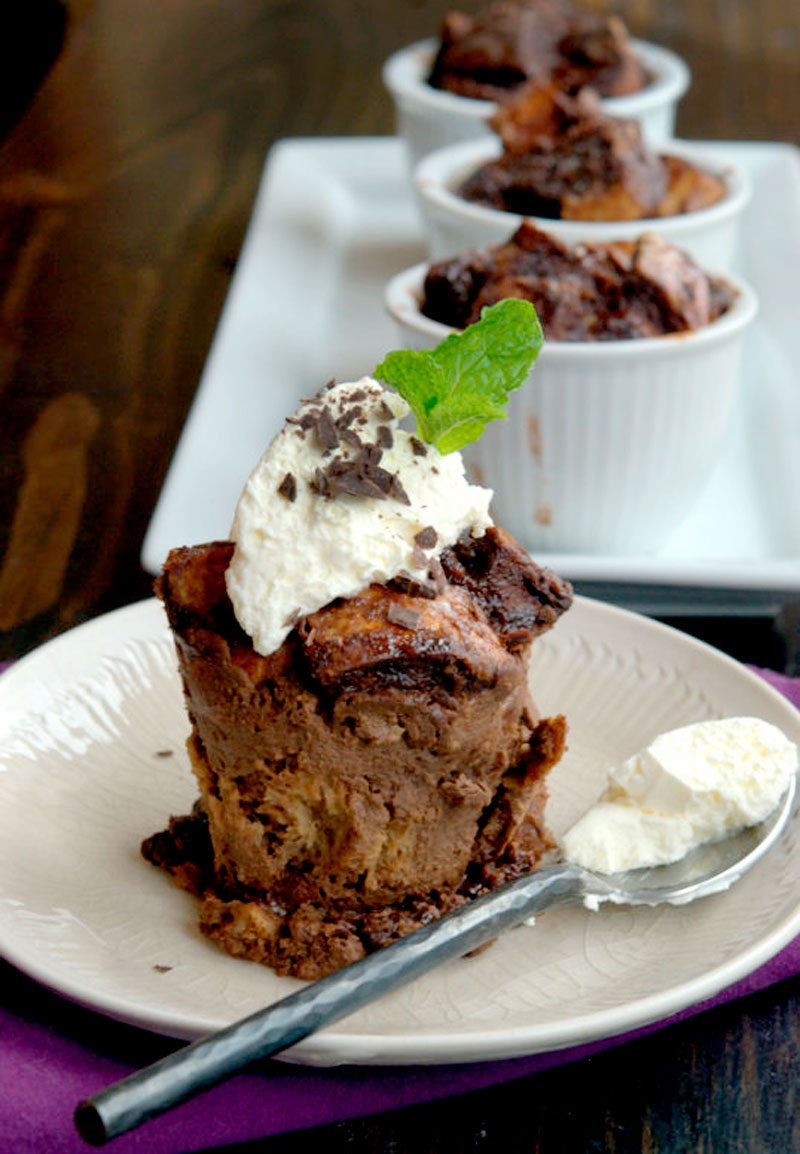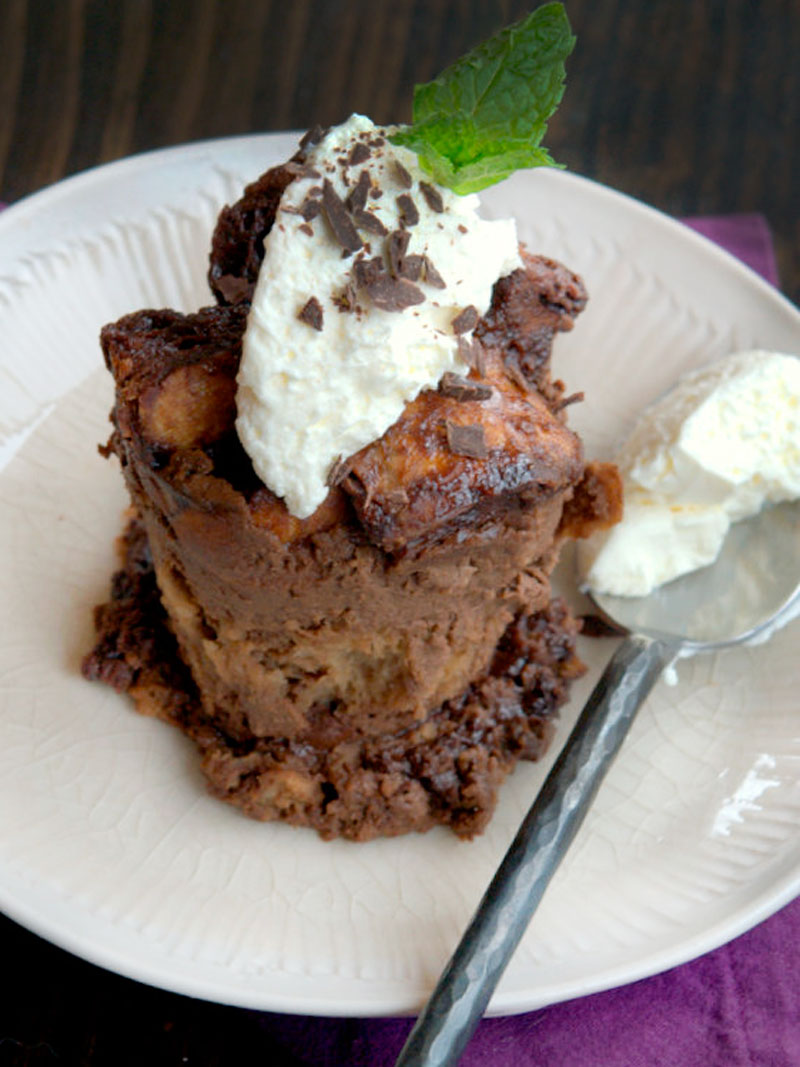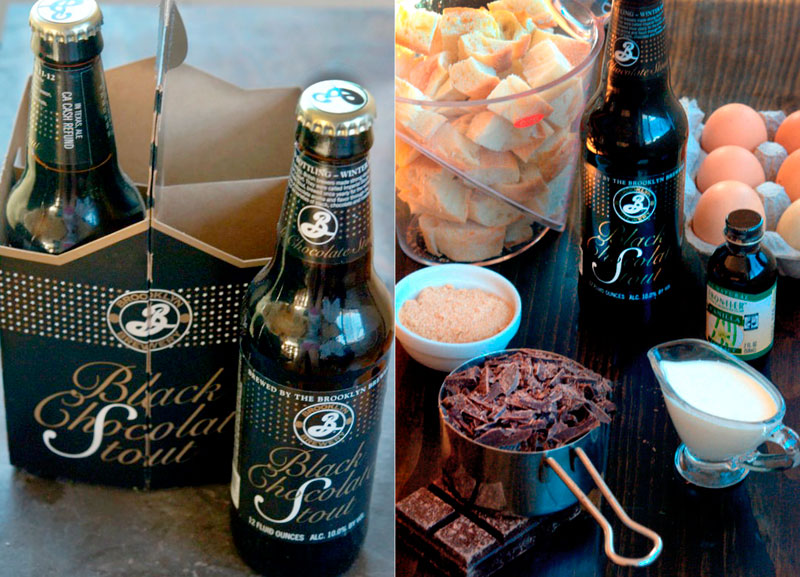 Black Chocolate Stout Bread Pudding
Makes (6) individual ramekins or (1) 9 by 9 baking pan
1 1/2 cups chocolate stout beer
1/2 cup heavy cream
1/3 cup plus 1 tablespoon brown sugar
1 cup dark chocolate, chopped (used 72 percent cacoa)
4 large eggs
2 teaspoons pure vanilla extract
4 cups French bread with crust, cut into 1-inch cubes
butter, for greasing the ramekins or baking pan
Whipped cream, for serving
few sprigs fresh mint
 Note: I like my bread pudding a little less sweet. If you like it sweeter, increase the sugar to 1/2 cup.
 Preheat the oven to 325 degrees.
Bring the stout, cream, and 1/3 cup sugar to a simmer in a medium saucepan, stirring until the sugar dissolves. Remove from the heat. Add 1/2 cup chopped chocolate and whisk until melted and smooth. Set aside to cool.
 Whisk the eggs and vanilla in a bowl to blend. Gradually whisk in the cooled chocolate mixture. Place the bread cubes in a large bowl and pour the custard on top, making sure to soak all the bread. Butter the individual ramekins (or baking pan). Sprinkle some of the remaining chopped chocolate in the bottom of each ramekin, and spoon the bread and custard mixture into each. Sprinkle a little sugar over each ramekin.
Place the ramekins inside a roasting pan in the oven and pour enough hot water into the roasting pan to come halfway up the sides of the ramekins. Bake until the custard thickens and the center is just set, about 45 to 50 minutes. Serve warm with whipped cream and finely chopped chocolate. Garnish with a sprig of fresh mint.
Happy New Year! Cheers, Yamas, Salute, Proost, Cin Cin,

L'chaim…