This colorful bowl of soup was inspired by a dish (Gaeng Som or Hot Sour Curry) that I recently enjoyed at a local Thai restaurant. This weekend finds at a local farmers' market, which featured, among other things, purple and orange cauliflower, fresh young ginger, Napa cabbage, and green beans. This soup strikes just the right balance of flavors to excite all your taste buds — sour/tart notes from the tamarind, a hint of sweetness from sugar, salinity as a result of the fish sauce, and a welcome kick of spice (but not too much) compliments of Thai chiles.
A lot of Thai dishes contain coconut milk, and while I enjoy coconut milk, sometimes it can be a bit heavy and overwhelm the other flavors in the dish. Particularly enjoy the lightness of this broth, but don't be deceived, it's loaded with flavor thanks to a curry paste made of shallots, garlic, ground shrimp (or shrimp paste), fish sauce, cilantro, lime zest, lemongrass, and Thai chiles, which is infused in a tamarind broth with fresh ginger. You can prepare the broth ahead of time and when you are ready to serve, just warm the broth and add the vegetables and shrimp.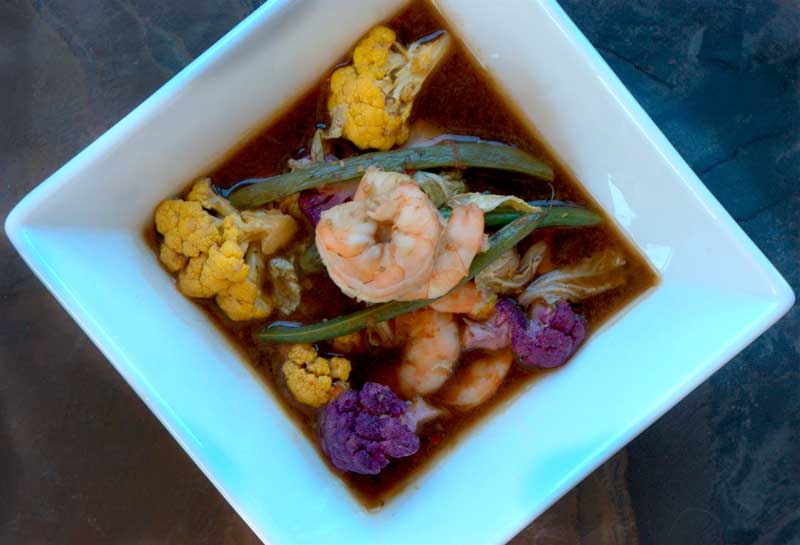 It's not often one gets excited over cauliflower (aka broccoli's ugly cousin); but these are beautiful, I might even say exquisite –so vibrant in color. While I prefer not to focus on the health benefits of food, but rather cooking food that I like and continually seeking out new flavors (which just so happens to be healthy too; shhh, just don't tell), I think there is one rule you can abide by and not go wrong: Eat a variety of colorful food everyday (btw, this doesn't include artificially colored food; just all-natural, as mother nature intended).
These colorful cauliflower are the result of traditional (non-GMO) selective breeding in which   different strains have been cross-bred to create cauliflower of varying colors — the purple, due to the antioxidant anthocyanin, and the orange due to greater amounts of beta carotene (just in case you were curious).
An assortment of colorful Thai chiles…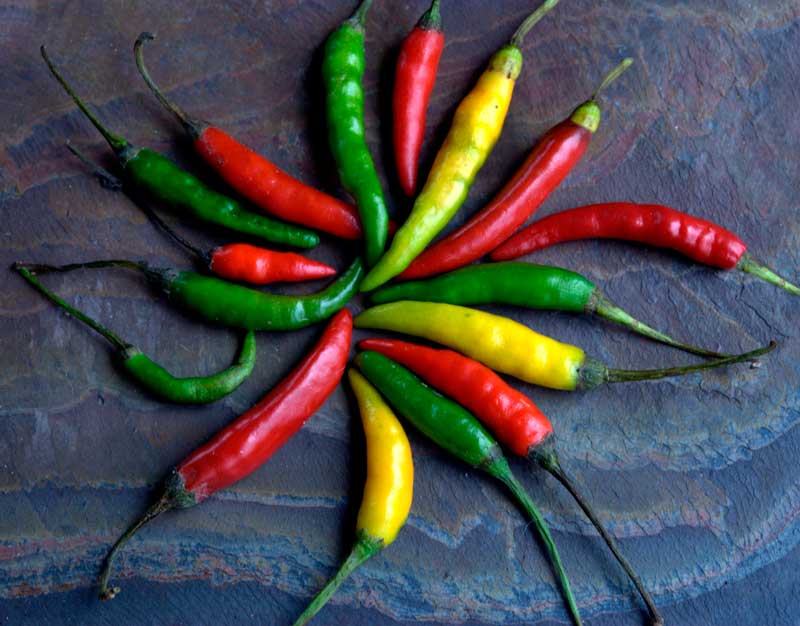 Fresh young ginger (tender and juicy)…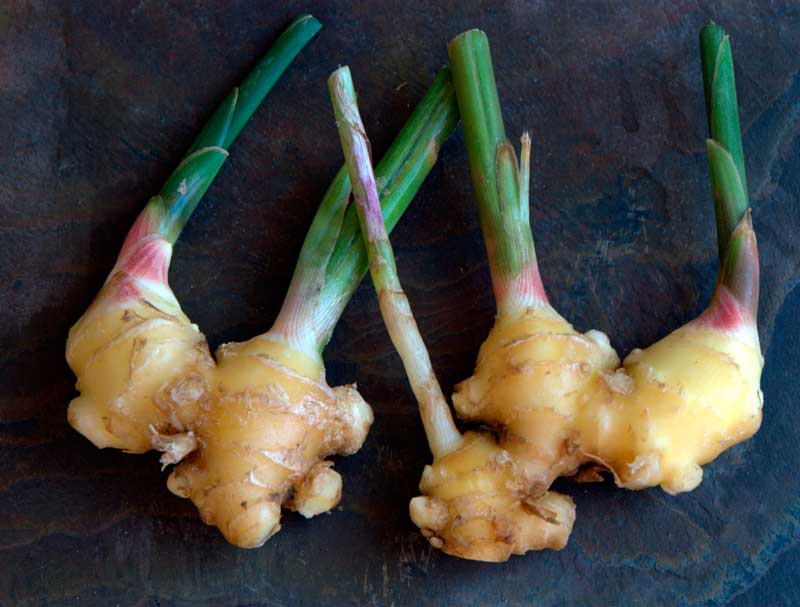 Pounding the shallots, garlic, ground shrimp (or shrimp paste), fish sauce, cilantro, lime zest (or leaves), lemongrass, and Thai chiles to form a paste…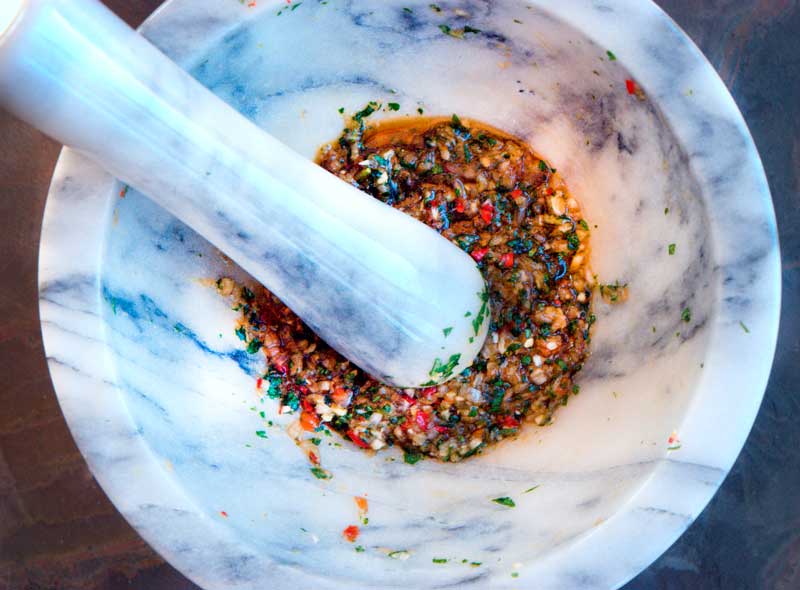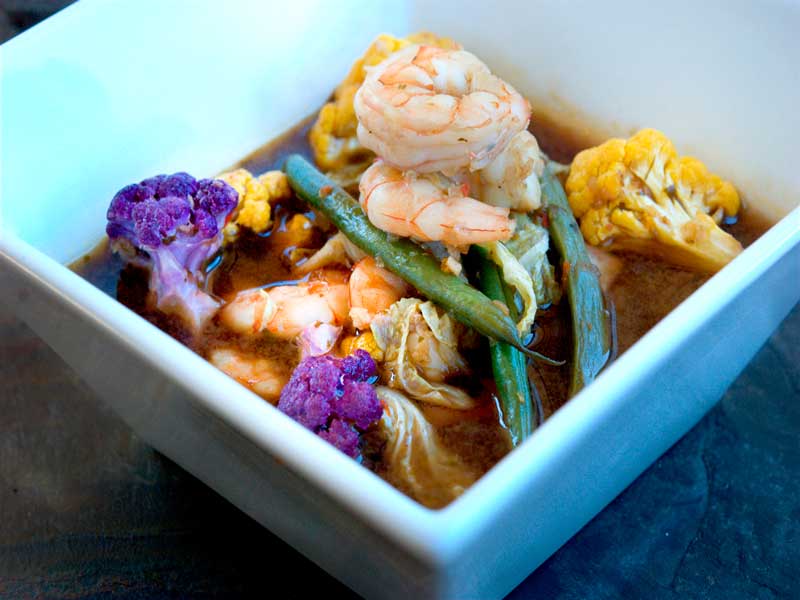 Tamarind Soup with Shrimp and Vegetables
6 tablespoons tamarind paste
1 cup boiling water
2 tablespoons oil
6 slices ginger (thinly slice ~ 1/8 inch thick)
1 quart (4 cups) fish or chicken broth
1 teaspoon sugar (preferably palm sugar)
1/2 pound shrimp, peeled and cleaned
Curry Paste:
2 shallots, finely chopped
2 tablespoons dried shrimp (ground to a powder) or 1 tablespoon Thai shrimp paste
1/4 cup fish sauce
2 tablespoons finely chopped cilantro leaves
5 to 10 Thai chiles, seeds removed, finely chopped (4-5 for a mildly spicy soup, 9-10 for spicy)
3 lime leaves or a 2 inch strip lime zest, chopped
1 piece lemongrass, finely chopped
Vegetables:
Cauliflower, cut into small florets
Green beans, whole or halved
Napa cabbage, sliced about ~ 1 inch thick pieces
Note: you can prepare the broth ahead of time.  Add the shrimp and vegetables just before serving.You can also substitute fish (cut into cubes), such as snapper or other firm white fish, for the shrimp.
Combine the tamarind paste with the boiling water. Stir with a whisk to dissolve the tamarind in the water.
Make a paste by pounding the shallots, garlic, ground shrimp (or shrimp paste), fish sauce, cilantro, lime zest (or leaves), lemongrass, and Thai chiles in a mortar and pestle (or food processor).
Heat the oil in a 4-quart pot over medium heat. When hot, add the paste and fry for about 2 minutes. Add the ginger and broth. Strain the tamarind mixture into the soup. Bring to a simmer. When warm, add the cauliflower and green beans. Cook for a few minutes, until just tender. Add the shrimp and cabbage. Simmer for 2 to 3 minutes until the shrimp are cooked through.
Serve hot with a side of brown rice.